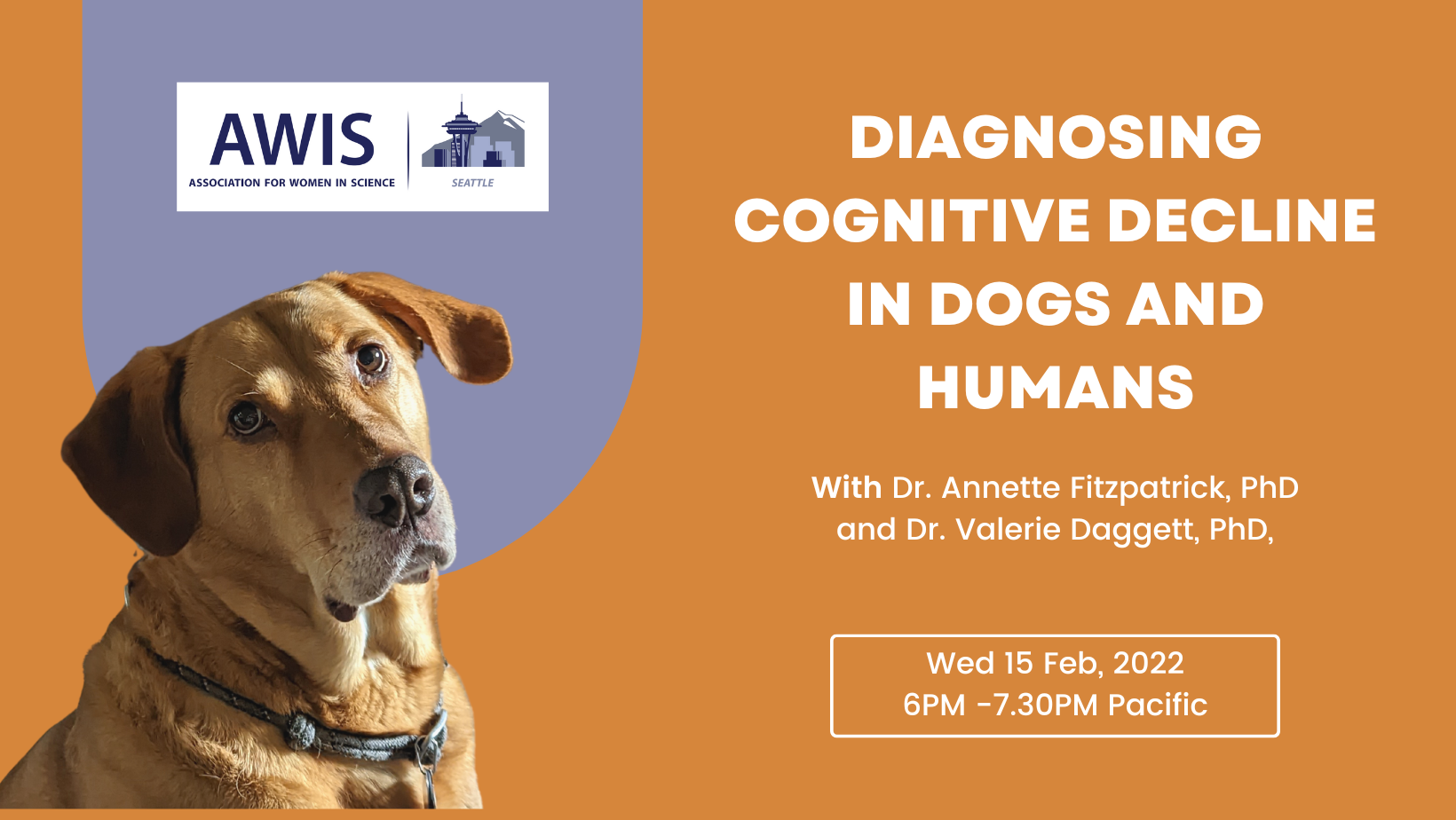 Seattle AWIS – Cognitive Decline in Dogs and Humans
85
85 people viewed this event.
Seattle AWIS is excited to invite you to an evening to learn more about cognitive decline in ourselves and our four legged friends. Join speakers Dr. Annette Fitzpatrick and Dr. Valerie Daggett as they share their expertise with us.
Meet the Speakers
Dr. Annette Fitzpatrick, PhD; Epidemiologist and Research Professor Emeritus with UW Depts. of Family Medicine and Epidemiology. Annette Fitzpatrick, PhD, is an epidemiologist and Research Professor, Emeritus, in the Departments of Family Medicine and Epidemiology at the University of Washington (UW) in Seattle. She has devoted her career to research in the field of aging with a focus on risk factors for cardiovascular disease and dementia/cognitive decline (in humans!). She joined the Dog Aging Project (DAP) in 2016 as one of its early investigators and remains active as this incredible study evolves. In addition to DAP, she has been Principal Investigator of 20 NIH- or CDC-sponsored studies and a co-investigator of an additional 15 more. She is a co-author of over 240 articles in scientific peer-reviewed journals. Dogs have always been a part of her life and now she hangs-out with Greta!
Dr. Valerie Daggett, PhD;  UW Professor in Bioengineering. Dr. Valerie Daggett holds the David and Nancy Auth Endowed Professorship of Bioengineering at the University of Washington. She obtained her B.A. in Chemistry at Reed College, her PhD in Pharmaceutical Chemistry and the University of California, San Francisco, and was a postdoctoral fellow at Stanford University. She has over 250 peer-reviewed publications and is a fellow of the American Institute of Medical and Biological Engineering and The Biophysical Society. She pioneered the approach of simulating protein unfolding and amyloidogenesis, as well as simulating representatives of all protein folds and developing associated databases and protein design tools. These various studies and approaches came together in the discovery of a new protein structure linked to the toxic species in amyloid diseases, which is being targeted for diagnostic and therapeutic agents for amyloid diseases, with a focus on Alzheimer's Disease.
Event Details
Event starts at 6PM with networking, drinks and light refreshments. This event is FREE and WELCOMES ALL, regardless of sex, gender, race, ethnicity, age, background or any other characteristic. This event welcomes scientists and non-scientists alike, and does not require background knowledge.
Finding the Pelton Auditorium
The Pelton Auditorium is located in the Thomas Building. The Thomas building entrance is located off Ward Street. Free parking is available on a first come basis directly outside the building. Please proceed through the main entrance, past the cafe, and the Pelton will be located on your right. More details can be found here
We will be following the venue guidelines for COVID19 controls. Proof of vaccination is required, and masking is strongly encouraged.